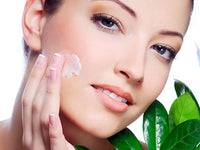 Taza natural skin care featured ingredients
Grape Extract: Rich in flavonoids, phytochemicals that have antioxidant properties like vitamin C and vitamin E. Antioxidants are believed to prevent and control numerous ailments by safeguarding cells against the ravages of unstable oxygen molecules called free radicals.
Japanese Green Tea: Reported to fight damage from excessive sun and environmental damage. Primarily this ancient Asian plant has ability to prevent free radicals from damaging cell structure further.
Wild Mushroom:: A natural astringent shown to improve skin tightness and firmness as it diminishes the appearance of pores.
Cucumber: A natural astringent and helps tighten pores Imparts a soothing feeling. Commonly used in skin care products as an anti-inflammatory, an excellent skin-soother and skin-conditioning ingredient.